Senior housing: A real estate segment attracting increasing attention from investors in the Czech Republic and Slovakia
22/09/2021
An alternative real estate segment, already well known in the West, is only now just emerging in Slovakia and the Czech Republic. Dúbravská Oáza, a facility for senior citizens and patients with Alzheimer's disease, represents the flagship of this new type of real estate investment. Crowdberry investors now have the opportunity to be among the first in this market and to help this particular property in its expansion plans, while also showing the way forward for society as a whole.
Worrisome demographic development in both countries
By 2064, 34% of Slovakia's population will be over the age of 65 (see Graph 1). The situation is very similar in the Czech Republic, where by 2050 approximately 35% of the population will be over the age of 60 and require specialised care (see Graph 2).
Graph 1: Demography of Slovak population
Graph 2: Age pyramid of Czech population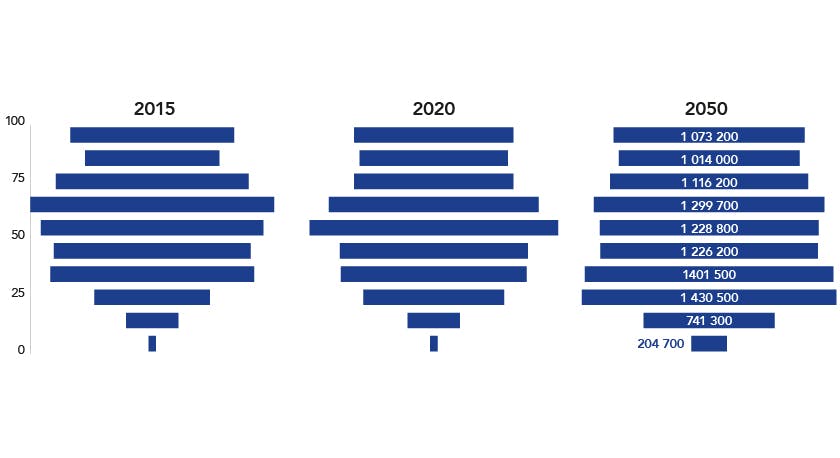 However, the ageing population and low birth rate are not the only signals indicating the necessity to build specialised centres for senior citizen care. The number of Alzheimer's patients is also growing (according to the alzheimer.sk portal, there are more than 50,000 such patients in Slovakia, whose number could reach 180,000 by 2040). At the same time, it is estimated that one in 20 people over the age of 65 suffers an illness connected with geriatric dementia.
All of this is putting tremendous pressure on specialised centres where our fellow citizens can spend the autumn of their lives in high-quality surroundings and in a dignified manner, whether they are relatively healthy or require specialised care.
Long waiting lists and no new construction
At the end of 2020, a total of 2,049 elderly people were waiting to be placed in Bratislava care homes, according to Bratislava City Hall. The average waiting time for placement often extends to six to eight months. Due to high upfront costs, however, practically no new care centres are being built. The private sector offers the best hope. Private centres are common in Western Europe, but this real estate segment is only now slowly emerging in Slovakia and the Czech Republic. Dúbravská oáza, offering peace and quiet and specialised facilities for seniors, is unique in how it raised private capital.
The first in Europe to receive funding from private investors
Though construction of centres for seniors in the West is driven by the market, it is always financed by companies. There, the market is now so mature that consolidation is taking place and large strategic players, i.e. networks of operators of specialised facilities, are emerging. However, if we look at Slovakia, Dúbravská oáza is a European first – to date, it is the only centre of its kind to have been financed by private investors. The attractiveness of the investment lies both in its interesting appreciation and balanced level of risk found in the opportunity to invest in a project that addresses a society-wide problem. However, the project is unique for other reasons.
Dilapidated centre converted into an oasis
Dúbravská oáza is an oasis of peace and quiet situated amid the forests above Bratislava, where, until recently, there had stood a deteriorating complex of buildings which served as a scout camp, hotel and recreation-education centre. But in 2019, this specialised facility for seniors was opened to the public.
Thanks to 99 investors, a state-of-the-art centre for seniors in Slovakia is located not far from the city centre. At present, the centre has the capacity for 152 beds, which should be fully occupied as early as 2022. Investors are already looking to the future at Dúbravská oáza and planning its expansion, which should add another 120 beds in 2025-2026, making the centre comparable in size to those in Western Europe.
Further investment rounds offer attractive appreciation for investors and benefits for families
Dúbravská oáza is currently undergoing another investment round on the Crowdberry platform, thanks to which investors will have the advantage of being first movers with the opportunity to achieve higher returns in comparison with other projects in the future, when the market will be more saturated. The protection of capital against inflation and the fact that, with your investment, you are helping to solve a societal problem are also appealing aspects. However, the crucial argument in favour of investment could be the right of first refusal for placement for yourself and your family members.
Dúbravská oáza is an ideal opportunity for those investors who are looking for both appreciation and overlap of their investments.
Investment parameters:
Crowdberry investors are becoming the second biggest co-owners of the centre.
From 2023, anticipated annual dividends will be in the range of 5-10% p.a.
Prepared design/construction documentation for expansion.
Right of first refusal for placement in the facility (for investors and their family members).
Investment with balanced risk thanks to extensive ownership of tangible assets suitable as protection against inflation.
Resources
Alzheimer.sk, ČSÚ, Sociálna poisťovňa, Štatistický úrad SR.