Home DNA sampling gives you the opportunity to take better care of your health
29/06/2022
Whereas a few years ago DNA testing was an expensive affair only available to institutions and scientific institutions, today pretty much anyone can get their own DNA analysed. But it's not just a whim. You can get information about your predisposition to various health risks, information about metabolism, nutrition and sporting predispositions that can affect the quality and length of your life. The analysis takes place from a saliva sample taken in the comfort of your own home, which is then processed in a certified laboratory in the presence of professional staff. Testing is not limited by age and the earlier you recognise your predispositions, the better. Companies specialising in genetic testing are responding to this, including the Slovak DNA ERA. How do we compare to the West?
In 2022, it was 69 years since the discovery of the structure of DNA. Research by scientists James Watson and Francis Crick in the United States laid the foundations for the widespread use of DNA, not only in healthcare. Over the years, the market for genetic testing and the actual collection and analysis of samples has developed to such an extent that it is possible to purchase kits for self-testing.
Global Genetic Testing Market Value
The global genetic testing market was worth €7 billion in 2021 and is expected to grow at a compound annual growth rate of 7.6%. This would mean a value of €13.9 billion in 2030. The largest local market is North America, where global players such as 23andMe and Ancestry operate. These companies have been instrumental in popularising DNA testing for the general public.¹
The growing popularity is also due to the ability to purchase kits for home sampling and subsequent DNA analysis online, but also due to a greater interest in health, active lifestyles and prevention.
Low levels of healthcare and an ageing population increase the importance of DNA testing
Genetic factors influence our health to the tune of 30%. Add to this the low level of health care in our region and the ageing population, and you have a clear argument for the use of DNA testing. DNA analysis can reveal predispositions to cancer and genetic risks, for which early diagnosis and prevention are key. Knowledge of one's own DNA will thus play an increasing role in prevention, personalised medicine and improving quality of life.
But people can also use DNA analysis for more pleasurable things - for example, to find out what sports are right for them, for family planning, or for a better understanding of their own bodies in general.
Central and Eastern Europe: quality of healthcare is part of the prevention toolbox
The Central and Eastern Europe (CEE) region is still relatively young in terms of self-testing, with healthcare quality lagging behind the OECD average (see table below). While the growth in commercial DNA testing is slowing in North America, the potential is for it to increase in CEE. This is mainly due to the lengthy process of improving the level of healthcare, which is mostly in the hands of the state, and people's greater interest in prevention.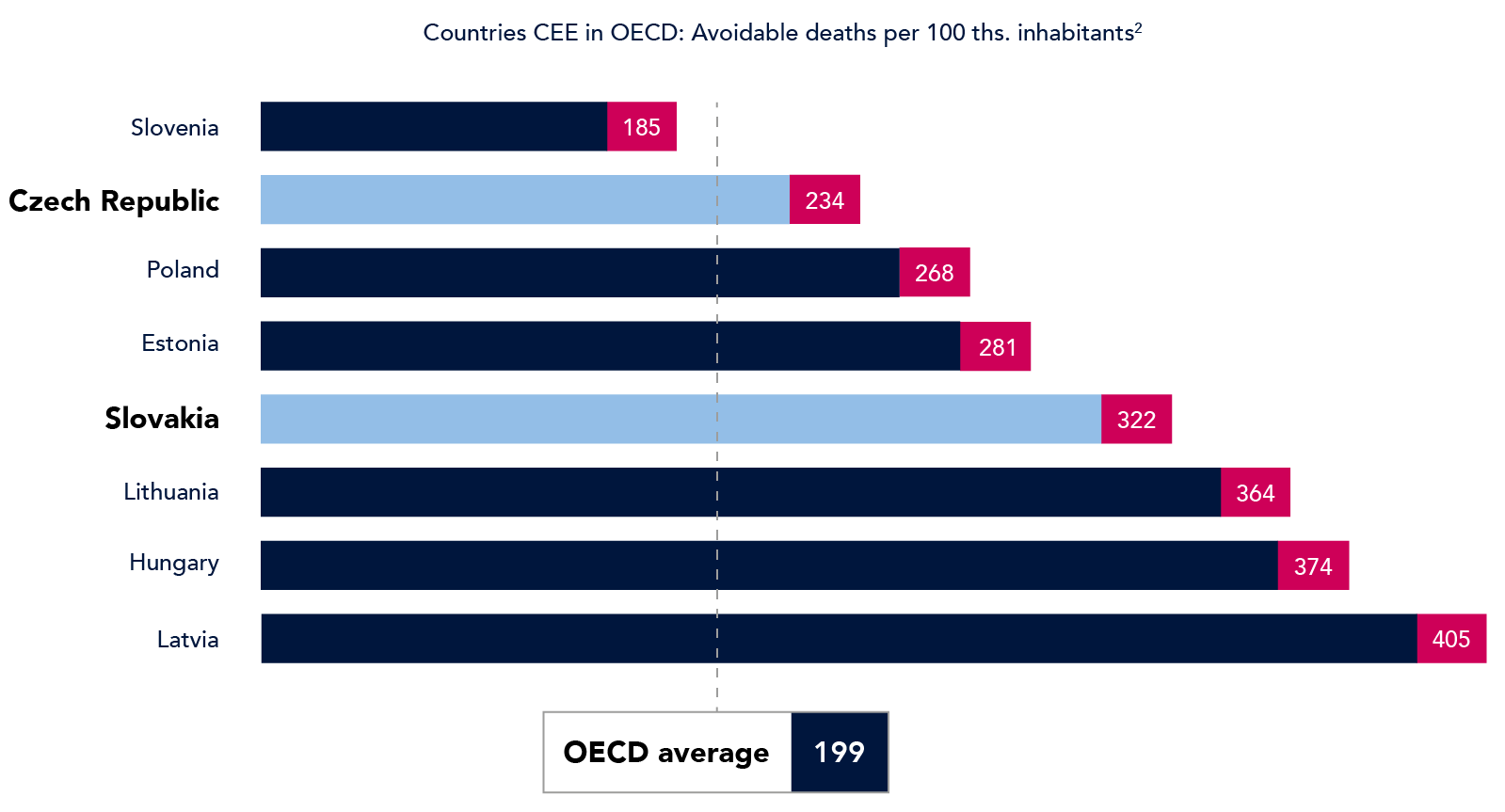 DNA ERA: Combining scientific knowledge with modern technology
The opportunity to take your health into your own hands, reduce health risks and work with your predispositions is also offered by the biotechnology company DNA ERA. The aim of this Slovak company is to bring DNA analysis to anyone who wants to take charge of their health. It intends to focus first on the Central and Eastern European market. By 2024, it plans to cover the markets of Slovakia, the Czech Republic and Poland, where approximately 50 million people live.
DNA ERA complements the results from the certified German laboratory with in-depth analysis, explanation of the results and recommendations for preventive measures. The added value is precisely the interpretation of the raw data that the company obtains from the laboratory. The company's proprietary interpretation software is based on the latest scientific knowledge and studies and is constantly updated in line with scientific progress. It is developed by the DNA ERA team led by geneticist Michaela Šiška and mathematician Jakub Šiška and is further validated by doctors, scientists, geneticists and other experts in the field.
One test, more than 90 reports
DNA ERA clients can choose from three types of tests. With the most detailed test, the Complex test, they get 93 reports from 7 categories such as health, medication, intolerance, nutrition or sports. They can access the data in a special web app. In addition, thanks to regular software updates, their results are constantly updated according to the latest scientific knowledge.
Do your part to improve disease prevention in our region
DNA ERA has received an investment of EUR 250,000 from CB Investment Management in 2020. The investment was used to improve the customer experience, a new web application and to finance the entry into the Czech market. DNA ERA met its business targets and grew its revenue by more than 700% in 2021.  Therefore, in 2022, we listed the company as a new investment opportunity on our platform, allowing private investors to become part of DNA ERA. The company intends to use the target amount of €1 million to expand its product portfolio, launch new health analytics features and further expand in a fast-growing market.
Become a co-owner of this Slovak biotech company and get the opportunity to put your money to good use through a project that goes beyond local boundaries and improves the quality of life for all of us.