FLEXDOG
About investment opportunity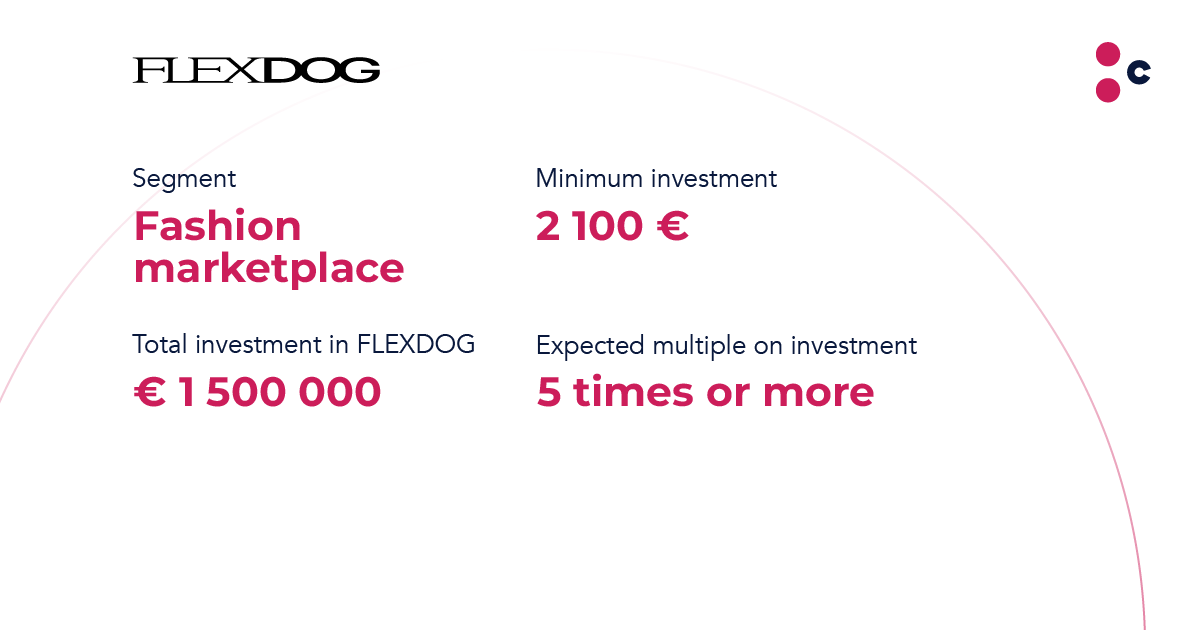 FLEXDOG is a unique platform connecting brands, retailers and resell (secondary market) platforms directly with customers, especially Generation Z. Visitors to the platform can find an exceptionally wide selection of clothing and sneakers in one place, including exclusive pieces not available elsewhere – thanks to FLEXDOG's ever-increasing number of business partners. One of the main benefits for the platform visitors is the simple price comparison of products from several sellers. The platform accessibility has no geographical boundaries. FLEXDOG's monthly traffic is nearly half a million visitors through 9 localized domains. The platform collects a fee for redirecting the visitor to the retailer's website and a commission for a completed purchase, while this year it will reach revenues of almost € 500 ths.
STRONG GROWTH POTENTIAL (IN MULTIPLES)
The global fashion e-commerce market continues to grow and is expected to reach over $ 1.2 trillion by 2027 (CAGR +10.5%). FLEXDOG has minimal working capital investment needs and virtually no physical constraints to its global expansion. In addition, it provides sellers (business partners) with a quality visitor base (high sales conversion), hence a new growth channel.
LINK TO THE MULTI-BILLION-DOLLAR SECONDARY MARKET FOR SNEAKERS AND STREETWEAR
FLEXDOG is shaping the secondary sales market for streetwear fashion in the CEE region. Business partners range from local CEE players up to the leading global marketplaces such as StockX or KLEKT. The value of global secondary streetwear fashion market is projected to reach up to $ 30 billion by 2030. (CAGR +20%).
Why FLEXDOG
Allows you to search and compare the best prices of apparel, sneakers and accessories.
Strong relationships with more than 170 business partners (FLEXDOG is a high quality source of visitors).
Simple, functional, and well-scalable business model.
Experienced team backed by professional VC funds.
Target revenue of €6.5 million and EBITDA of €2.1 million by 2026.
Huge market potential of fashion e-commerce – up to 1.2 bil. $
Expected return of 5x times the investment or more.
FLEXDOG in nutshell
The platform
Goals for near future
BUSINESS MODEL AND EXPANSION
Team
MARKET AND COMPETITION
RISKS
USE OF INVESTMENT
List of abbreviations
AOV  - Average Order Value 
AR - Augmented Reality 
C2C - Customer-To-Customer 
CAGR - Compound Annual Growth Rate 
CEE/CSE - Central, Eastern, and Southeastern Europe 
CEO - Chief Executive Officer 
DTC  - Direct-To-Consumer
EBITDA - Earnings Before Interest, Taxes, Depreciation and Amortization 
GMV - Gross Merchandise Value 
ROAS - Return on Advertising Spend 
Take rate - Podiel tržieb na GMV 
Y-o-Y - Year-over-Year 
The funding campaign will end on 31.10.2024, 23:59.
Investment opportunity into target cmpany enabled by Crowdberry Investment Platform j.s.a.